Close Protection Operations  - 7 day Live Firearms Training Course - Advanced Skills  - Israeli Method
Close Protection Operations

Israeli Advanced Skills HECPO 7 day training course

 
 
ALBANIA
€

Close Protection Operations

Israeli Advanced Skills HECPO 7 day training course

 
 
ALBANIA
€

Close Protection Operations

Israeli Advanced Skills HECPO 7 day training course

 
 
ALBANIA
€

Close Protection Operations

Israeli Advanced Skills HECPO 7 day training course

 
 
ALBANIA
€

Close Protection Operations

Israeli Advanced Skills HECPO 7 day training course

 
 
EUROPE
€
Only practical Live Firearms training course
About Us - Risk Management Specialists:
MPSS & GENI-AX is a specialized consultation and services multinational. We provide military and police support services, strategic and tactical stability support, with turn-key mission solutions which ensure the safety and structured readiness of Governmental and Corporate ventures worldwide.
MPSS & GENI-AX Group in numbers:
2500+   over 2500 Agents working for us
36+       we are working in over 36 Countries all around the World
50+       over 50 years of International experience 
Certificates issued by MPSS&GENI-AX:
1) Close Protection Operations - Israeli Advanced Skills - HECPO Certificate
With this certificate plus a 14day Close Protection certificate (issued by SIA or another Security Authority), candidates will be able to apply for the SSCS badge for Close Protection Operative and Tactical Firearms Operator.
2) Tactical Firearms Competency Certificate for the Private Security Sector
What is included:
training, food (3 meals a day), accommodation, transfer from-to airport, equipment and certificates (upon successful completion of the course)

What is not included: flight tickets
Syllabus 
Practical Training – 7 intensive Day Live Fire Training Course
Low Profile Protection
Operational Close Combat Krav Maga
armed and unarmed scenarios
Punches
Knees
Elbows
Grappling
Take downs
VIP Protection, single operative
Attacks from several positions
Multiple attackers
Defence against attacks with knives, guns and sticks
Aggressiveness skills
VIP Protection
Multiple scenarios, attackers and weapons
Car & Foot formations and movements
Embarking and debarking the VIP
Emergency drills
Tactical Combat Shooting
Familiarizing the weapons
Operational weapons check
Safety Instructions
The instinctive operational shooting method
Aiming and pointing
One and two hands shooting
Drawing and cocking
Breaking and shooting while walking/running
Shooting in various positions: standing, kneeling, lying
Weapons jam: magazines replacement and handling malfunctions
Turns at 90, 180, U-shape, V-shape against multiple opponents
Shooting from behind cover
Clearing open territory with opening barricades and usage of cover
Shooting on the move between targets 360 degree
Distinction between enemy and civilians
Combined surprise combat exercises
Advanced methods – aggressiveness, decisiveness, speed and accuracy
Urban Warfare
Single operator: clearing the entrances (narrow, wide)
Single operator: work on doors, windows and clearing a room
Operating Teams: clearing the entrances (narrow, wide)
Operating Teams: work on doors, windows and clearing a room
Working with a VIP
Being attacked wail getting out of the car in-to a building
Being attacked with VIP inside a building
Extracting the VIP from the line of fire.
From a variety of emergency situations into a building, a car or other covers.
Techniques for evacuation of the VIP to closer or distant shelter
Convoy Training
Driving skills
Shooting from a car
Situations and responses in emergency situation on the convoy.
Evacuation from an attacked car.
Evacuation with a car
Attacks on a 2 cars convoy
Instructors:
From the best Israeli Counter Terrorism Units
Requirements:
-to be in good physical and mental condition;
-since the training is high demanding in terms of physical performance candidate has to be fit.
-clean criminal record certificate;
-better if the candidate has got a Close Protection Certificate
-better if the candidate has got a CP experience
-better if the candidate has got an Israeli Combat Shooting Certificate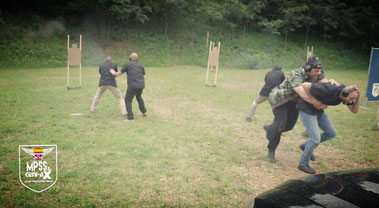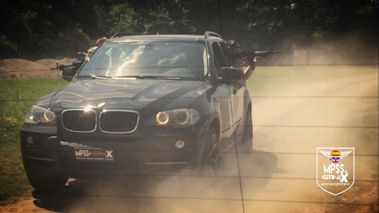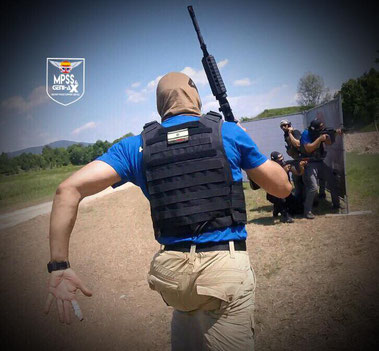 For information and booking please email us at: tacticaltraining@mpss-geniax.com